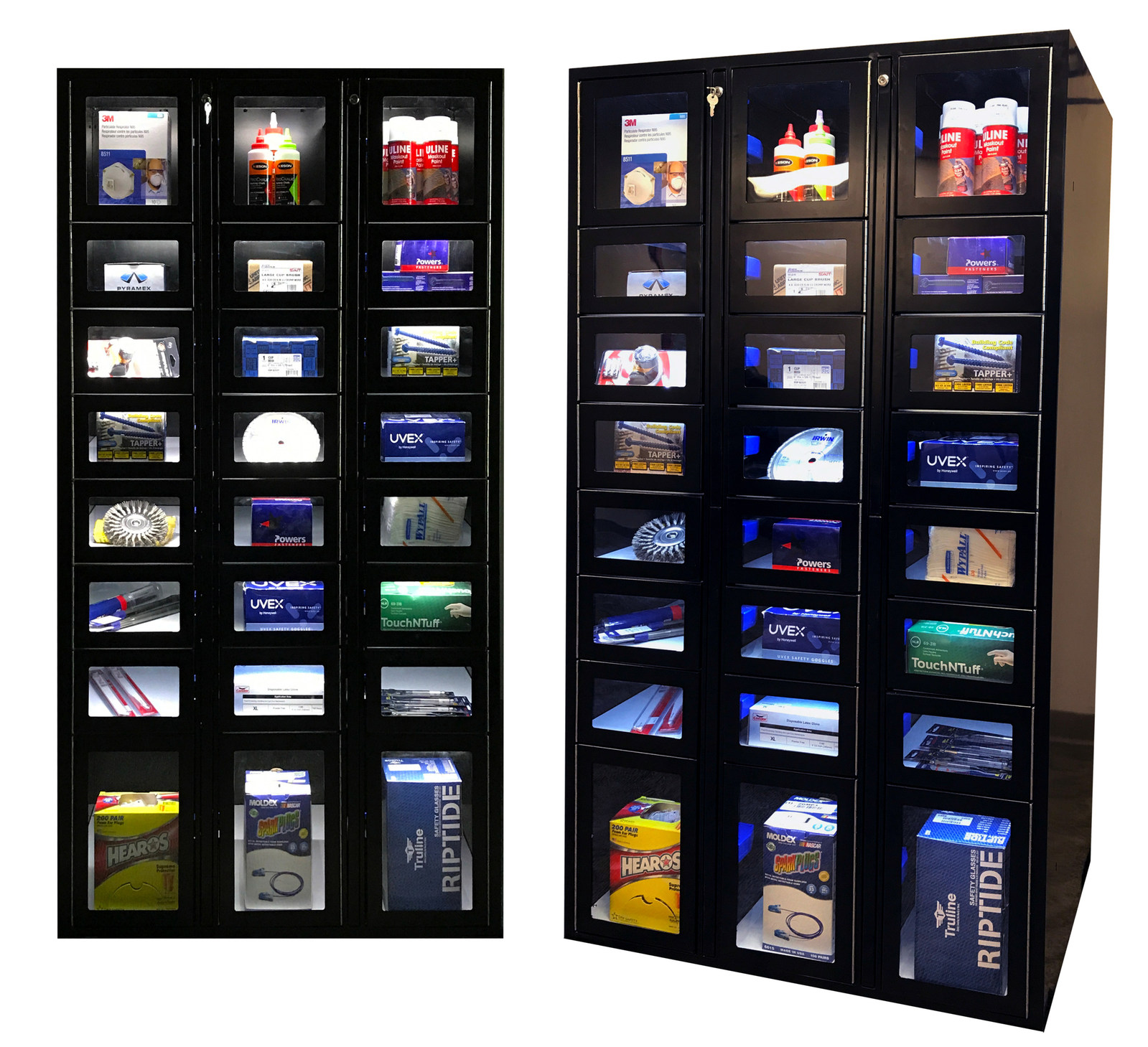 One of the world's leading automatic merchandisers and the engineers behind some the most essential vending technologies, and accessories, Seaga is no stranger to innovative forward thinking. With three decades of experience in innovation and its position in the market, Seaga knows better than anyone that smart companies invest in smart technologies that are economically promising. This in mind, Seaga set out to help solve the oldest problems in manufacturing, needless cash outflows due to inventory leakage and undue downtime caused by lack of tools and the availability of the proper equipment needed to successfully start and or complete jobs.
With the consummate success of the IIC system, Seaga also recognized a need to expand the system's capacity so that it would include greater product security, flexibility, and the talent to vend larger items. In light of this, IIC, a division of Seaga, developed the perfect complement to its popular IIC system, the IIC Guardian.
Outfitted with LED lighting and boasting 24 secure field adjustable compartments, the Guardian is a perfect addition to the IIC family. With check-in/check-out capabilities and a robust cloud-based software package that is completely integrated with reporting features, the Guardian provides the clear and conclusive accounting of supply usage enabling the precise forecasting and reduction of inventory levels by 50% or more. The IIC system allows companies to stock what they need, when they need it, providing disclosure on who has what, when, and where.
"We've found that when companies invest in our IIC system they're not just looking for ways to save money or improve their bottom line. They're looking for next generation solutions and seeking opportunities to expand on efficient productivity through consistent material availability. They want a system that's forward thinking and rife with the kind of revolutionary smart technology Seaga has always been known for." Steven V. Chesney, CEO of Seaga Manufacturing Inc.
As one of the few lockers in the world that has the ability to be re-configurable in the field, adjusting to specific needs, an industry first, the IIC Guardian is truly the intelligent vending solution for industrial equipment, PPE, MRO equipment, monitoring office and computer supplies, and so much more.
As companies all over the globe try and contain cost they can put their woes at ease knowing that the IIC Guardian is hard at work balancing the bottom line, holding employees accountable for supply usage, and reducing expenses in the workplace.
Established in 1987, IIC a division of Seaga has been a worldwide leader in automatic merchandising systems. Leading the way in innovation, design, and manufacturing of superior vending equipment, VISI Coolers, change machines, automatic hot and cold beverage dispensers for a variety of industries.
Seaga's corporate headquarters is located in Freeport, Illinois USA adjacent to its state of the art manufacturing and warehouse facilities.
If you would like more information please contact Seaga Manufacturing Inc. at 815 291 9500 or email us at info@seaga.com